The newly elected American president has a long story of trademark ownership. Among his valid and abandoned trademarks, amid the litigations he has undertaken nationally and internationally, he is definitely one of the most diligent businessmen who ponders attentively his intellectual property portfolio.
Trump's Trade Mark Portfolio
It seems like Trump is going to be a most IP aware president in the history of the United States: "unlike almost any other president in history, Donald Trump has first-hand familiarity with the concept of marks and brands. He knows the time, money and effort needed for their care and feeding" (Forbes). Nevertheless, this does not symbolize that his presidency would have some serious repercussions on the professional sector in the US. Still his trademark history deserves some attention if seen as representative of the business acumen and of the mindful branding reflected in Trump's intellectual property portfolio.
In all, there are probably in excess of one hundred current, existing federal registrations to Donald Trump and his companies (excluding the several marks owned by Melania, several political slogans, and a number of marks he formerly owned and gave in with sold businesses). The portfolio varies starting with the Trump perfumes, beverages (water, vodka, cocktails etc.), entertainment production, casinos, shuttles and many more. In terms of IP strategies Trump has always done what a wise businessmen should do: try to trademark almost every single thing he came across among his activities and, most importantly, coherently defend his rights every time he needed to do so.
The case of Trump's political slogan "MAKE AMERICA GREAT AGAIN" deserves a particular mention. It is widely known that Trump did not invent the slogan, which was previously used by Ronald Reagan in his 1980 political campaign. But if the trademark is not used anymore by its owner or is not renewed, it becomes "abandoned" and others can claim their rights by registering it.
In November 2012, just some days after the second Obama presidency vin, Donald Trump has filed a US trade mark for his future political slogan with a serial number 85783371 (registration n. 4773272) of USPTO for the 035 and 036 classes: for "political action committee services, namely, promoting public awareness of political issues" and "fundraising in the field of politics".
It is unclear why only two these classes were chosen. In fact, Meri Barnes and Bobby Estrell (Dj Bobby Bones) in August 2015 have filed a trademark "Make America Great Again" under serial n.86716074 for 018 and 025 classes (the categories include different bags, purses, clutches, some garment, footwear, pants, jackets, shirts etc.) making for Trump impossible its use for his political campaign merchandising.
A tweet at @realDonaldTrump was sent with a deal proposal in which Estrell offered to transfer their trademark to Trump in change of 100K donation to St. Jude Children's Research Hospital. Bobby Bones has also served a proof of use of his trademark by tweeting a link to his ecommerce with some goods featuring "Make America Great Again" slogan. It seems like it took less than five hours to Trump's Attorney to agree a deal with Estrell.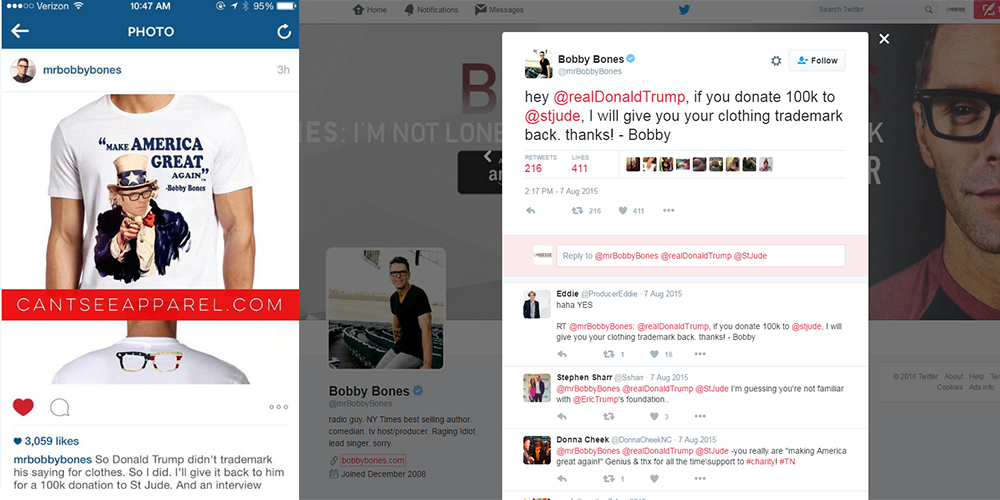 Well, this is what might be called a "happy ending" to a story, but it is not always like that. This might have also been the case of a so called trademark squatting, despite its honorable aim. The Trump's trade mark attorney could have chosen a different way to handle the case and try to examine if were the elements of a trademark squatting searching for grounds to oppose or cancel the trademark.
Trump's IP Litigations
In the last decade Donald Trump has been involved in lots of US IP lawsuits. But the most recent and the most discussed one is definitely the Chinese dispute over the use of Trump name trademark to provide real-estate-agent services in commercial and residential properties in China.
According to the Wall Street Journal more than 50 Trump name related trademarks exist in China in different categories, of which only 21 are owned by Donald Trump. In 2006 Donald Trump has applied for his trademark TRUMP in class 36, which has been rejected by the China's State Administration for Industry and Commerce (SAIC, 国家工商行政管理总局). The reason was that a Chinese citizen Dong Wei (董伟) a couple of weeks before Donald Trump has filed for the same trade mark in one of the sub-classes of the same class, covering services such as building construction supervision, construction, demolition, road building, mining, and drilling.
In 2009 the Chinese Trademark Office has rejected Trump's application. Back in 2006 Trump was not widely famous in China, so the claims about intentional malicious registration were dropped by the Office and Dong Wei's prior date of filing was the only thing hat counted.
Trump then requested a re-examination which in February 2014 has brought the review board of the SAIC, Trademark Review and Adjudication Board (TRAB), to confirm the previous decision, rejecting Trump's appeal. A lawsuit against SAIC was filed by Trump at Beijing First Intermediate People's Court, which upheld the ruling. After several legal battles in 2015 the Beijing People's High Court dismissed Trump's appeal in a final judgment, just a month before Trump announced his presidential run.
Interestingly, according the China Law blog, Trump has implemented two parallel strategies in his Chinese battle: the first, as described, consisted in appealing the rejection of Trump's trade mark, and the second strategy aimed to invalidate Dong Wei's trademark. As the opposition to Dong Wei's trademark was rejected by the SAIC and same for the appeal to the rejection of the opposition, which was cancelled by the TRAB in 2015.
After the two strategies seemed to give no positive outcome, the only options Trump had were to appeal the TRAB's decision (regarding his opposition to Dong Wei's trademark) to the Beijing IP Court, or try to invalidate Dong Wei's registered trademark.Trump has chosen the second.
The real astonishment came when after all the legal confrontations, according to SAIC database, Trump refiled a new application for the trademark and the Chinese party claim was invalidated by the TRAB. That is a new application that has got its provisional approval right some days after Trump was elected a US president. If no objections would be filed in 90-day public-notice period, the decision will become permanent and Trump will finally get his long-desired Chinese trademark.